COLOR ME GORGEOUS
Sky
Raspberry
Midnight
Leaf Green
Sky
Raspberry
Midnight
Leaf Green
Royal Blue
Green Print
Blue Print
Royal Blue
Green Print
Blue Print
Sky
Raspberry
Midnight
Leaf Green
Royal Blue
Ready if you are! Our New for '22 Collection is
now available. Explore silks, satins
and chiffons to create a coveted wardrobe of lush
looks. Vibrant hues steal the spotlight; your wardrobe
heroes have finally arrived!
Explore Now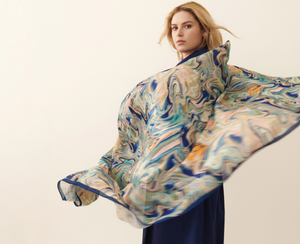 "The best color in the whole world is the one that looks good on you."

―Coco Chanel
Have you ever found just the most perfect new outfit, except the color made your skin wash out? Yes, so have we.

That's why at Gabriella Rossetti we're offering our collections in three color palettes, so you can choose the shade that looks most stunning on you. Whether your skin and hair are cool tones or warm, or if you're looking for a neutral shade, we've got you covered.

Each of our pieces is offered in a cool tone, a warm tone and a neutral tone—black. Three palettes so we can all look our most confident, happy selves.

Not sure what undertone you are? An easy indicator is whether silver or gold is most flattering. Think of 'most flattering' as the color that works more harmoniously with your skin tone and hair color. Silver indicates you have cool coloring and gold indicates warm coloring. Now start shopping—and know you'll look your best.
"The look is sophisticated, expensive - and out of the ordinary for plus-size fashion."
The San Francisco Chronicle
"Featuring impeccably cut, fashion-forward, daytime chic options, Gabriella Rossetti delivers seasonless items that are fashioned from superb quality fabrics, with an overall look that is refined, sexy and glamorous."
The Curvy Fashionista
"The question that everyone must answer every day, no matter who they are or where they live is "What am I going to wear?" It's a lifelong quest and query and one that can be a delight or a dilemma. Gabriella Rossetti answers this question with a gorgeous, just-launched collection of attainable luxury clothing for sizes 12-22."
Daily Venus Diva
"When's the last time a garment made you swoon?"
Daily Venus Diva